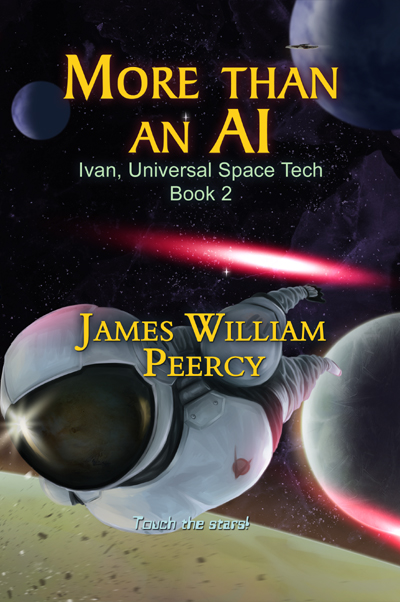 Space pirates, a Lambarthian invasion, and a jealous AI? Some galaxy class field techs get all the fun jobs.

However, evolution has its cost. When a U.S.T's AI brings more to the table than what she seems, surprises lurk around every corner.

Refusing to walk away from a challenge our tech places his life on the scales of fate, balanced on the curved surface of an electron. He must help a people, two planets, and his friends. But will he lose himself, determined to do the right thing for two races on the brink of war?

It's just another job in a mad, mad universe.

Written in the light of the great space operas, Ivan was inspired by Edmond Hamilton's Starwolf trilogy. With hyperspace, energy guns, and AI's, its technology spans the gambit. But don't take our word for it, find out for yourself!
Moon Half Full - previously on Amazon
...makes you read to the end, on the edge of your seat, without stopping....

...There is just enough description to make the story interesting without dragging it out with excess verbage...

Two lovers, one venture, and a warp through time...
If you would like to see some books, click on one of the following websites:
Kindle Edition
More Than an AI - Amazon.com
More Than an AI - Amazon.co.uk

Print Edition
More Than an AI - Amazon.com
More Than an AI - Amazon.co.uk

Facebook
www.facebook.com/jameswilliampeercy


Texas Renaissance Festival 2021
James William Peercy will be signing at the Texas Renaissance Festival. He'll be onsite every Saturday, Sunday, and Thanksgiving Friday, October 11th through November 28th. He will be located at "The Lilly Pad- Ye Ole Odd Duck company" booth# 208.
or check out the following:
Three-Sided Coin Publishing