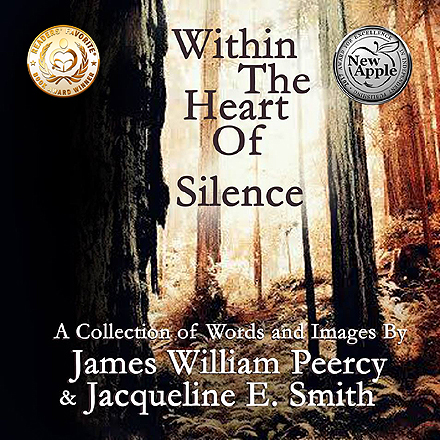 Speak,
All that exist upon creation.
Open the search of what shall be.
Lift our hearts from consternation.
Grant our souls entwine,
Until all the world agree,
In the heart of silence.

Featuring Poetry by James William Peercy
& Photography by Jacqueline E. Smith

Within the Heart of Silence
A Collection of Words and Images.

It was award Solo Medalist by New Apple for 2017.
Within the Heart of Silence... on Amazon


This book would make a great addition to any collection...

...brings...photographs to life in the most beautiful and spectacular way...


If you would like to see some books, click on one of the following websites:
Kindle Edition
Within the Heart of Silence... Amazon.com
Within the Heart of Silence... Amazon.co.uk

Print Edition
Within the Heart of Silence... Amazon.com
Within the Heart of Silence... Amazon.co.uk

Facebook Links
www.facebook.com/jameswilliampeercy
www.facebook.com/JacquelineSmithAuthor


or check out the following:
Wind Trail Publishing